Bipolar

at

Risk

Trial

II

(BART

II)
Led by: Dr. Sophie Parker
BART II is a new multi-site trial with Manchester, Birmingham, Sheffield, Lancashire, and Norfolk & Suffolk that will begin in April 2022.
This project (NIHR132622) is funded by the Efficacy and Mechanism Evaluation (EME) Programme, an MRC and NIHR The views expressed in this publication are those of the author(s) and not necessarily those of the MRC, NIHR or the Department of Health and Social Care. 
What
is

the

aim

of

BART

II?
The aim of BART II is to investigate the efficacy of a specific intervention (Cognitive Behaviour Therapy / CBT) for those meeting bipolar at risk criteria, or CBT_BAR.
The CBT_BAR was refined in our previous trial (Bipolar At Risk Trial / BART) that we conducted in 2015 until 2018 in Manchester. We learned from this trial that it is possible to identify those who meet the bipolar at risk criteria, that it is feasible to keep those participants engaged in the research for up to one year, and that the CBT_BAR indicated beneficial and that the CBT_BAR indicated beneficial outcomes for those who were offered it.
What
have

people

said

about

their

experience

of

the

Bipolar

At

Risk

work

we

have

conducted?
Our research group believes passionately that offering preventative approaches will help us to improve upon and develop appropriate services for young people who are often not catered for within the NHS. We have been pivotal in the development of this approach for young people at high risk of developing psychosis within the UK. Through this work we were coming into contact with individuals who also reported significant concerns about their mood and were attempting to access help with very little success. When we were awarded the Research for Patient Benefit grant we were thrilled to bring this approach to young people with distressing mood swings. The BART trial has received a great deal of interest from service users and from staff in our own footprint as well as staff nationally and internationally. It appears to have real relevance and is of true value to the NHS patients it is trying to serve and their families. We are really looking forward to using the positive findings from this trial to gain larger funding to test this approach across a number of centres within the UK to explore how effective this approach is for young people."
For BART II, we will be aiming to recruit 338 participants across the 5 sites starting in January 2023.
The participants will be randomly selected to either receive treatment as usual, or their treatment as usual plus the CBT_BAR.
The CBT_BAR will be delivered individually by our trial therapists for up to 6 months.
All participants will then be followed up by a research assistant at 4, 6 and 12 months and will receive £20 as a token of appreciation at their initial appointment and the follow up appointments.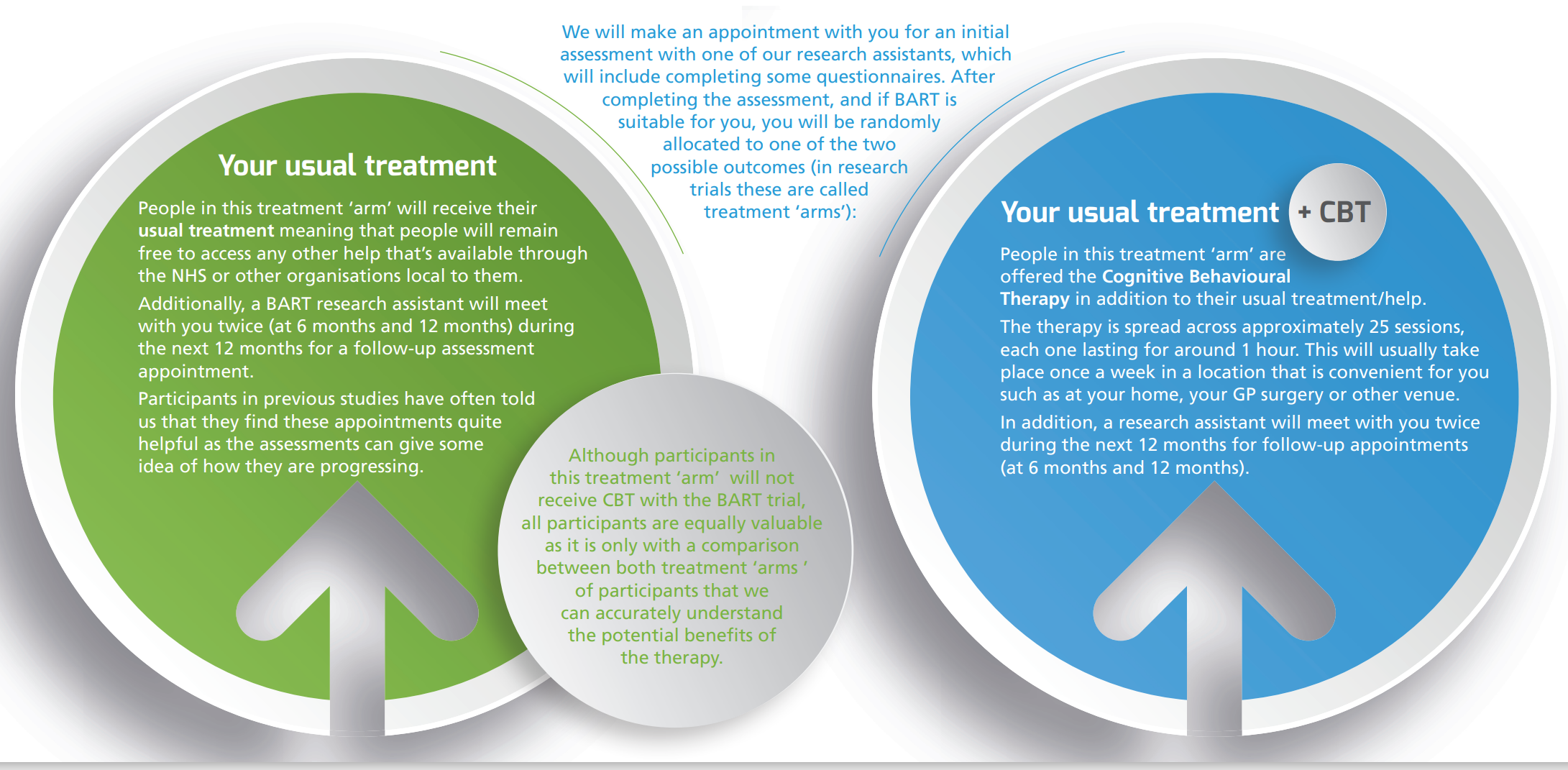 What
additional

work

are

we

undertaking

in BART

II?
Follow us on our journey as we begin to set up this exciting new trial!
In addition to the trial, we will also be conducting work with our service user reference group to create an animation video that will explain what the trial is all about and what it will involve taking part as a participant.
This animation will be built from the work we had done in BART. We had held a feedback day at the end of the trial for our participants at the Royal Exchange Theatre in Manchester. Illustrations were created based on the conversations we had that day with our participants about their experiences of having taken part. These illustrations, such as the one below, will form the starting point for our animation video.