IPPACT:

Improving Prediction

of

Psychosis

in

ARMS using

a

Clinically

useful

Prognostic Tool
Led by Alison Yung & Filippo Varese
Why
is

the

IPPACT

study

important?
We are currently able to identify individuals at high risk of developing a first episode of psychosis using the At Risk Mental State (ARMS) criteria and the Comprehensive Assessment of At Risk Mental States (CAARMS) 
About 15 – 22% of people identified as ARMS develop psychosis within 12 months – a risk about 400 times that that of the general population.
However, most individuals meeting the ARMS criteria will not develop psychosis – meaning that some young people may be having unnecessary treatment (those who would not have developed psychosis).
It also means that the NHS may be using a costly treatment, such as CBT, in people who may not need it. Additionally, some people may be told that they are at high risk of psychosis when they are not, creating possible fear and stigma.
Therefore,
we

need

to

improve

our

ability

to

predict

psychosis

within

the

ARMS

group.
Develop set of measures and prognostic model for At Risk Mental States (ARMS).
To assess the external validity of this set of measures and prognostic model for use in the NHS.
To assess the health economic impact of implementing this approach in clinical practice.
What's
involved

in

IPPACT?
An IPPACT research assistant will be based in the clinical team to help with data management, assessment tracking and transfer data anonymously to the research database.
All new ARMS cases will have a CAARMS assessment completed at baseline by the clinical team as per routine practice (This will be supported by CAARMS training/CAARMS scoring clinics as required)
Alongside the CAARMS, clinicians will administer some additional questions/measures to inform the prognostic model. We have consulted staff and service users at different sites about which tools are most appropriate.
We will give all new ARMS cases An IPPACT leaflet, explaining that we will collate this routinely collected data and enter it anonymously into a research databases unless they choose to opt out of us using their anonymised data
Why
is

the

opt

out

approach

important

for

IPPACT?
If we tried to consent all new ARMS cases into a research study it is very likely that a big proportion would choose not to take part.
If we missed all the people who choose not to take part, our final prognostic model won't be accurate.
If we are only using anonymised data, it won't create any additional burden for people.
We have consulted service users and the ethics committee, who have noted that this is a common approach in other fields of health research to develop accurate 'disease risk models'.
It is in the interests of public health to use this data and improve our ability to accurately predict psychosis
Optional
IPPACT

follow

up

study:
Participants in the main study will be invited to take part in an additional phase of IPPACT.
If participants decide they would like to opt in to this part of IPPACT, they will be given a leaflet explaining the study and complete a consent form before their assessment.
The study will involve meeting with the research 12 months after their baseline assessment to:

Repeat the CAARMS assessment
Repeat the prognostic measures
Answer some questions about their service use and health status
The END POINT of IPPACT is to help improve the detection of ARMS individuals who will transition and therefore, identify who needs more intensive support, to allow you to better manage time and resources within your service.
If you want more information about the study please contact:
Sarah Gibson (IPPACT Project Manager)
07435 982 125
Download
Resources
Here... 
Clinician pack v4 01.02.2021 Image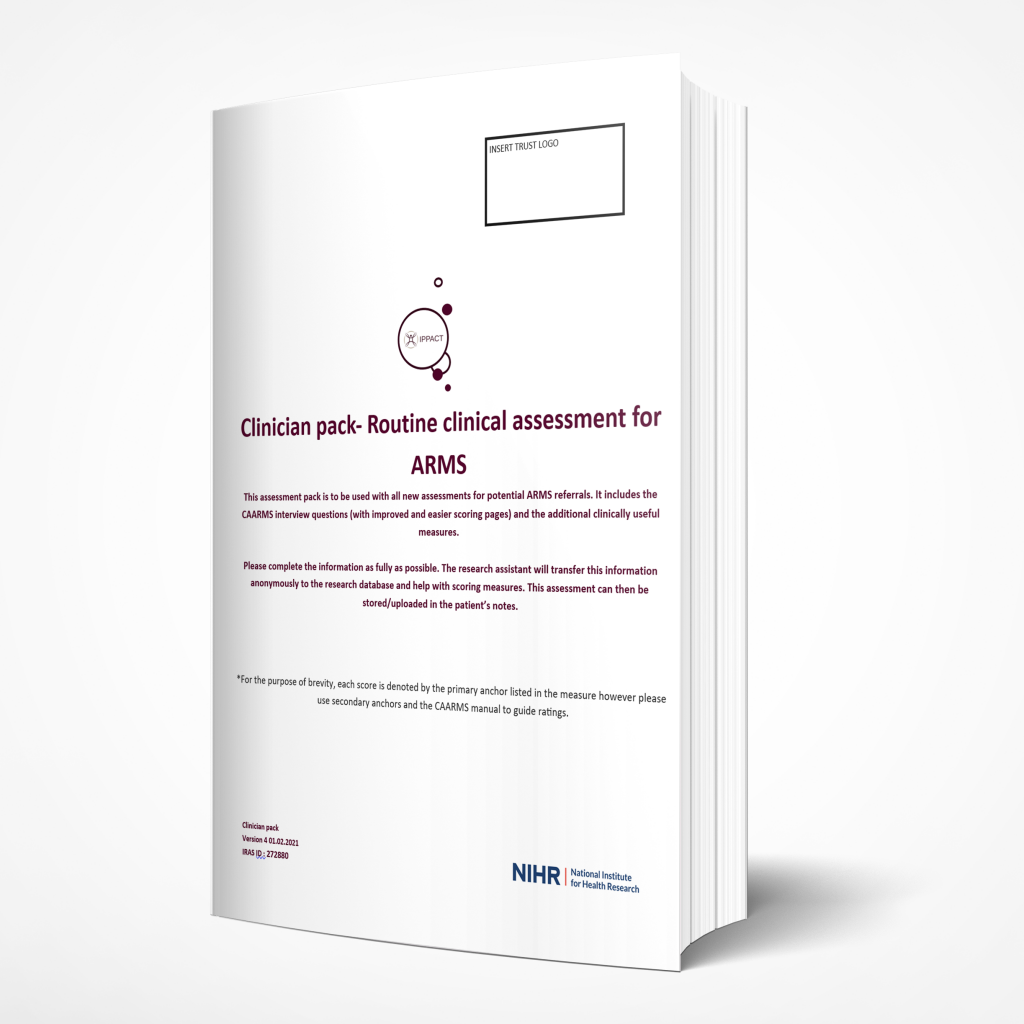 Opt Out Information and Consent v1 20.12.2019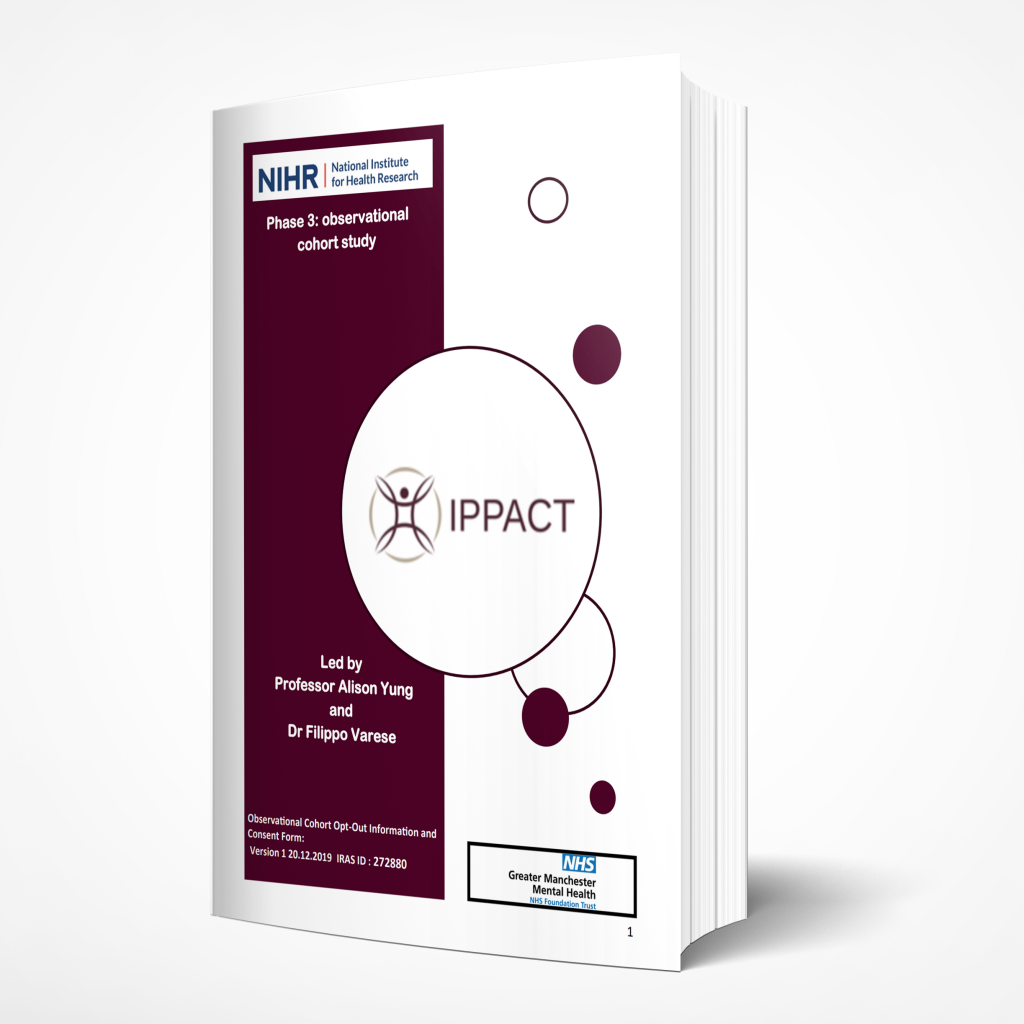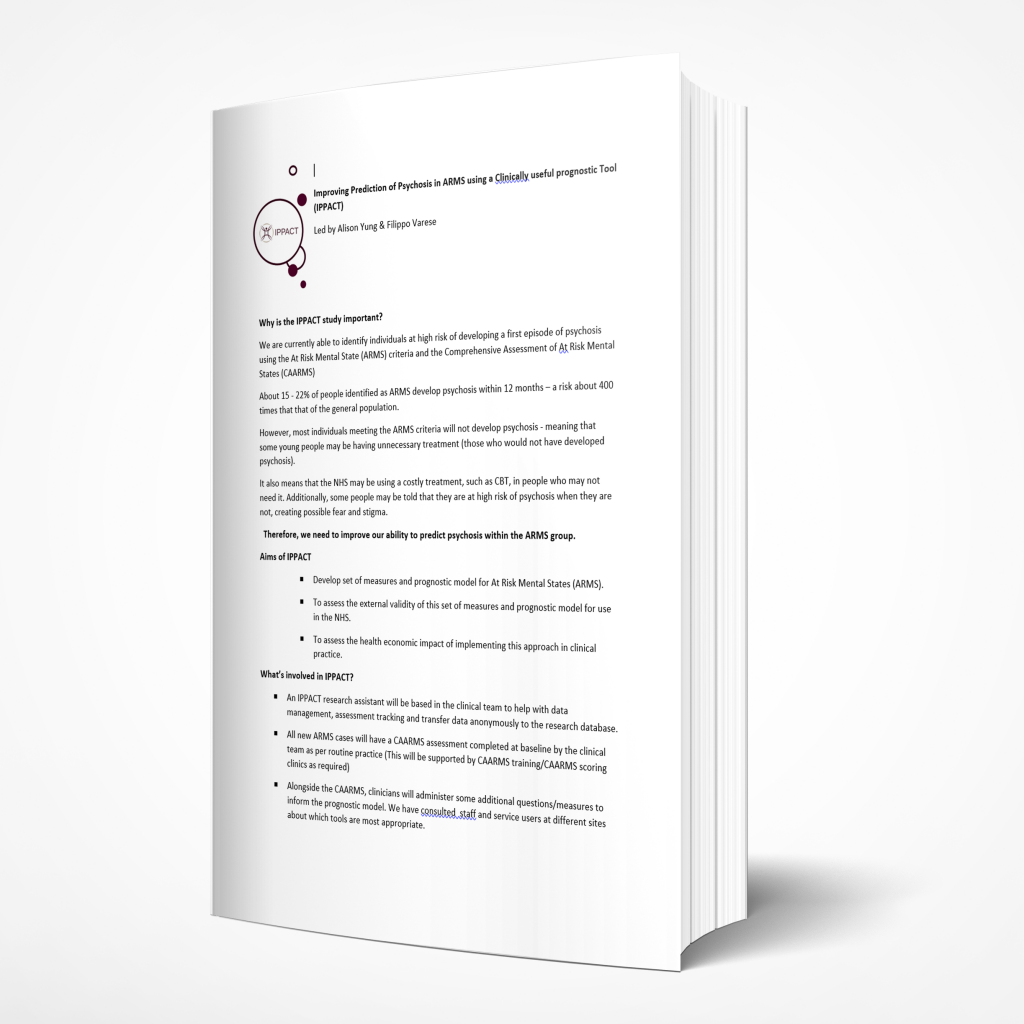 Self Report Measures Baseline image